ClearPoint Neuro Announces Agreement with NE Scientific to Integrate Gene Therapy Infusion Coverage Tool into ClearPoint Maestro® Brain Model
SOLANA BEACH, Calif., April 18, 2023 (GLOBE NEWSWIRE) -- ClearPoint Neuro, Inc. (NASDAQ: CLPT) (the "Company"), a global therapy-enabling platform company providing navigation and delivery to the brain, today announced an exclusive worldwide agreement with NE Scientific, LLC, a leader in biophysics simulation, to develop a GPU-accelerated software solution for modeling of drug infusions delivered with the ClearPoint SmartFlow® cannula. Under the terms of the agreement, this first of many software collaborations will enable simulation of patient-specific infusion in real time to predict the distribution of therapeutic agents in 4D before the actual procedure. Coupled with Maestro, this new software will allow optimization of infusion parameters including target points, flow rate, infusion coverage and leakage outside of target-specific boundaries. The simulation software will require standard structural and diffusion pre-operative MRI scans. Infusions can be planned either in the pre-operative MRI space and registered to intra-operative MRI case data, or in the OR space using an intra-operative CT.

"The accuracy of the ClearPoint system allows for precise dosing and targeted delivery of therapeutic agents across the blood brain barrier. Real time simulation of patient-specific infusion would be of tremendous help to neurosurgeons performing these procedures. It presents a unique opportunity for optimization and monitoring of infusion parameters, including cannula tip location, flow rate, and percentage coverage," commented Lyubomir Zagorchev, Vice President, Clinical Science and Applications at ClearPoint Neuro. "Accurate patient-specific quantification and visualization of infusion coverage has the potential to change the current practice of setting up fixed clinical protocols for pharma trials. The dose of delivered therapeutic can be visualized and quantified during a procedure based on patient-specific data. That will reduce variability that may lead to sub-optimal delivery, and even failed clinical trials."
About ClearPoint Neuro
ClearPoint Neuro's mission is to improve and restore quality of life to patients and their families by enabling therapies for the most complex neurological disorders with pinpoint accuracy. Applications of the Company's current product portfolio include deep brain stimulation, laser ablation, biopsy, and delivery of drugs, biologics, and gene therapy to the brain. The ClearPoint® Neuro Navigation System has FDA clearance, is CE-marked, and is installed in more than 65 sites in North America, Europe, and South America. ClearPoint Neuro is partnered with more than 50 biologics/pharmaceutical companies, academic centers, and contract research organizations, providing solutions for direct CNS delivery of therapeutics in pre-clinical studies and clinical trials worldwide. To date, more than 6,000 procedures have been performed and supported by the Company's field-based clinical specialist team, which offers support and services to our customers and partners. For more information, please visit www.clearpointneuro.com.
About NE Scientific, LLC
NE Scientific (NES) is a leader in the real-time simulation of biophysics. The core of their technology is a unique GPU-accelerated set of numerical libraries for solving partial differential equations with the finite element method, including an in-house algebraic multigrid solver which is 2.5 times faster and 10 times more memory efficient compared to other state-of-the-art alternatives. NES is the recipient of National Cancer Institute grants, through which the company developed Accublate™ RFA, a stereotactic guidance software for radiofrequency (RF) ablation of liver tumors. Accublate uses real-time simulation of ablation physics to indicate live during the procedure, for example which portion of the tumor has been ablated and which is still viable. That visual indication ensures more precise tumor ablations and is directly applicable to modeling drug infusions in the brain. In a world-first clinical trial on 57 patients undergoing percutaneous RF liver ablation, NES showed a reduction in the 12-month local recurrence from 12.7% in an equivalent study, to 3.5% under guidance of Accublate. NES' work on simulation and guidance of Microwave ablations was awarded the Johnson & Johnson QuickFire Lung Cancer Innovation Award. The company is part of the NVIDIA Inception Program designed to support novel use of GPU and AI technology.
Forward-Looking Statements
Statements in this press release concerning the Company's plans, growth and strategies may be forward-looking statements within the context of the federal securities laws. Statements regarding the Company's future events, developments and future performance, the size of total addressable markets or the market opportunity for the Company's products and services, as well as management's expectations, beliefs, plans, estimates or projections relating to the future, are forward-looking statements within the meaning of these laws. Uncertainties and risks may cause the Company's actual results to differ materially from those expressed in or implied by forward-looking statements. Particular uncertainties and risks include those relating to: the impact of the COVID-19 pandemic, global instability, supply chain disruptions, labor shortages, and macroeconomic and inflationary conditions; future revenue from sales of the Company's ClearPoint Neuro Navigation System and other new products offered by the Company; the Company's ability to market, commercialize and achieve broader market acceptance for the Company's ClearPoint Neuro Navigation System and other new products offered by the Company; the ability of our biologics and drug delivery partners to achieve commercial success, including their use of our products and services in their delivery of therapies; and risks inherent in the research, development, and regulatory approval of new products. More detailed information on these and additional factors that could affect the Company's actual results are described in the "Risk Factors" section of the Company's Annual Report on Form 10-K for the year ended December 31, 2022, which has been filed with the Securities and Exchange Commission.
A video accompanying this announcement is available at https://www.globenewswire.com/NewsRoom/AttachmentNg/afc7e7a7-07d4-45f9-ae1f-05a55e9a0d17

Contact:

Media Contact – ClearPoint Neuro
Jacqueline Keller, Vice President of Marketing
(949) 900-6833
info@clearpointneuro.com

Investor Relations – ClearPoint Neuro
Caroline Corner, PhD
ICR Westwicke
ir@clearpointneuro.com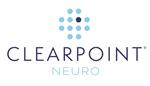 Source: ClearPoint Neuro, Inc.

Released April 18, 2023