ClearPoint Neuro to Showcase Two Novel Innovations at AANS 2023: ClearPoint Maestro® Brain Model and ClearPoint Prism™ Neuro Laser Therapy System
Solutions from ClearPoint portfolio, including SmartFlow cannula, Maestro and ClearPoint Neuro Navigation will be featured in abstracts and training programs throughout the meeting
SOLANA BEACH, Calif., April 20, 2023 (GLOBE NEWSWIRE) -- ClearPoint Neuro, Inc. (NASDAQ: CLPT) (the "Company"), a global therapy-enabling platform company providing navigation and delivery to the brain, today announced it will exhibit at the 2023 American Association of Neurological Surgeons (AANS) Annual Meeting being held in Los Angeles, CA from April 21 to April 23.

The ClearPoint Maestro Brain Model will be shown at AANS for the first time since its Limited Market Release. Maestro is designed to enable highly accurate ClearPoint interventions under MRI guidance by facilitating patient-specific, multi-modal fusion for accurate target identification and trajectory planning. The software, which was originally licensed in 2021 from Philips, a global leader in health technology, gained FDA clearance in 2022. Recent announcements related to Maestro include an extension of the Philips agreement to include fully automatic subnuclei segmentation for deep brain stimulation procedures, as well as a partnership with NE Scientific to integrate a gene therapy infusion tool into the model. Attendees who visit the booth (#1229) will experience hands-on how Maestro can assist neurosurgeons with targeting, and ClearPoint's pharmaceutical partners with volume calculations for drug delivery trials. The software is currently installed at select institutions in the United States.
The Company will also showcase the ClearPoint Prism Neuro Laser Therapy System, currently in Limited Market Release in the United States, and part of an ongoing prospective clinical trial for Glioblastoma in Europe. The system comprises a clinical solution combining the ClearPoint navigation platform, the laser technology from CLS, and a thermal ablation monitoring software called Thermoguide™ from Image Guided Therapy (IGT - Bordeaux, France). In 2022, CLS received FDA clearance for the ClearPoint Prism Neuro Laser Therapy System. Visitors to the booth will walk through ClearPoint's novel streamlined workflow for laser interstitial thermal therapy (LiTT) including an efficient one-room solution that has helped neurosurgeons accurately place laser fibers to treat brain tumors, radiation necrosis, and epileptic foci in thousands of patients.
"Our team is dedicated to providing neurosurgeons performing DBS, LiTT and drug delivery procedures across the globe with cutting edge innovation," stated Jacqueline Keller, Vice President of Marketing at ClearPoint Neuro. "We believe the addition of the ClearPoint Maestro Brain Model and the ClearPoint Prism Neuro Laser Therapy system will allow us to become the one-stop-shop for neurosurgeons interested in performing procedures in the MRI today, and in the OR in the future. AANS is a great meeting for neurosurgeons and hospital team members to experience these tools live for themselves and plan how to integrate them into their practices. We look forward to seeing you at our booth."
About ClearPoint Neuro
ClearPoint Neuro's mission is to improve and restore quality of life to patients and their families by enabling therapies for the most complex neurological disorders with pinpoint accuracy. Applications of the Company's current product portfolio include deep brain stimulation, laser ablation, biopsy, and delivery of drugs, biologics, and gene therapy to the brain. The ClearPoint® Neuro Navigation System has FDA clearance, is CE-marked, and is installed in more than 65 sites in North America, Europe, and South America. ClearPoint Neuro is partnered with more than 50 biologics/pharmaceutical companies, academic centers, and contract research organizations, providing solutions for direct CNS delivery of therapeutics in pre-clinical studies and clinical trials worldwide. To date, more than 6,000 procedures have been performed and supported by the Company's field-based clinical specialist team, which offers support and services to our customers and partners. For more information, please visit www.clearpointneuro.com.
Forward-Looking Statements
Statements in this press release concerning the Company's plans, growth and strategies may be forward-looking statements within the context of the federal securities laws. Statements regarding the Company's future events, developments and future performance, the size of total addressable markets or the market opportunity for the Company's products and services, as well as management's expectations, beliefs, plans, estimates or projections relating to the future, are forward-looking statements within the meaning of these laws. Uncertainties and risks may cause the Company's actual results to differ materially from those expressed in or implied by forward-looking statements. Particular uncertainties and risks include those relating to: the impact of the COVID-19 pandemic, global instability, supply chain disruptions, labor shortages, and macroeconomic and inflationary conditions; future revenue from sales of the Company's ClearPoint Neuro Navigation System and other new products offered by the Company; the Company's ability to market, commercialize and achieve broader market acceptance for the Company's ClearPoint Neuro Navigation System and other new products offered by the Company; the ability of our biologics and drug delivery partners to achieve commercial success, including their use of our products and services in their delivery of therapies; and risks inherent in the research, development, and regulatory approval of new products. More detailed information on these and additional factors that could affect the Company's actual results are described in the "Risk Factors" section of the Company's Annual Report on Form 10-K for the year ended December 31, 2022, which has been filed with the Securities and Exchange Commission.
A photo accompanying this announcement is available at https://www.globenewswire.com/NewsRoom/AttachmentNg/e45b7f3d-4476-4712-8e63-7c34b75ee235

Contact:

Media Contact – ClearPoint Neuro
Jacqueline Keller, Vice President of Marketing
(949) 900-6833
info@clearpointneuro.com

Investor Relations – ClearPoint Neuro
Caroline Corner, PhD
ICR Westwicke
ir@clearpointneuro.com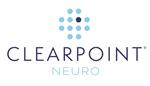 Released April 20, 2023